Workshops:
SPSASS offers workshops on a regular basis, focusing on information of interest to seniors.
Some of these workshops include:
Technology
Service Canada
Power of Attorney & Representation Agreement
ICBC
Living well, Driving Well
BC Securities Commission

Medication awareness

Income options in retirement

Healthy eating

Fraud prevention

Fitness

Alzheimers
Do you have a great idea for a workshop topic? Let us know.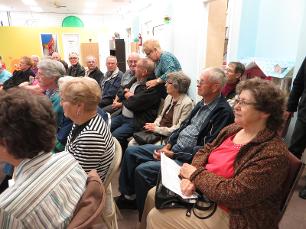 Meals for You:
Meals for You' is a program of the Dawson Creek Alliance Church. The committed volunteers at the Dawson Creek Alliance Church prepare a variety ofnutritious, delicious, and affordable frozen meal packages.
Seniors Access is pleased to assist the 'Meals for You' program by providing a freezer and a place where people can purchase these meals. Meals are available at the Seniors Access office Monday through Friday from 1:00 to 3:00 pm.
Entrees $7:00. Soups $2:00
Information at: 250-782-3221
250-782-2340
250-782-3837
You can also order and purchase meals online
Go to the 'Meals for You' webpage to order online
One on One Assistance:
During operating hours ( Monday to Friday, 1:00 to 3:00 pm), a volunteer will be available to assist with a wide variety of services.
Conference:
The Seniors Access Conference is held every two years. The objective is to bring in keynote speakers that seniors may not otherwise be able to enjoy. It is also an opportunity for seniors to network and socialize and to put forward questions and issues that are important to them. We also feature local experts and artists. Lunch and snacks are provided. We are grateful for all the community support in funding this conference.
The next Seniors Access Conference will be held on June 3rd 2023. More details, and a date when advance tickets will be on sale, will be released on our Home page as they become available.
For information on past conferences see the Conference Archive.
Better at Home:
South Peace Seniors Access Service Society co-hosts the 'Dawson Creek Better at Home' Program. For more information on 'Dawson Creek Better at Home' please go to the program website
Dawson Creek Better at Home website
Computer Courses:
Computer Courses are currently not operating, however assistance with computer questions and issues can be arranged as resources allow. If interest in this program increases, it may be considered for renewal.
See information about past computer courses on the 'Archive' page.