The primary purpose of the
South Peace Seniors Access Service Society (SPSASS) is to:
"Relieve loneliness and isolation associated with aged persons by
establishing and operating a drop-in center, and providing computer
training, workshops and information programs for seniors."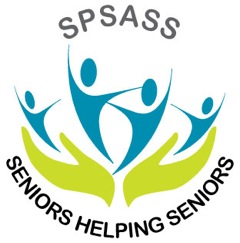 SPSASS has become an integral part of the Senior Community in Dawson Creek, British Columbia and serves a very important and necessary purpose.

Staffed by volunteers, the walk-in facility, located in the Dawson Co-Op Mall, is open Monday to Friday 1:00 p.m. until 3:00 p.m. and is available for all seniors and family to access information and resources.
What We Do
Seniors Helping Seniors: Connecting Seniors with the right people and each other. More importantly, SPSASS helps our seniors stay connected.
The SPSASS outreach centre provides a "one stop shopping" location for seniors to receive information, mentoring, and other services designed to assist and sustain seniors in their home.
"I was in a predicament and didn't know which way to turn. The lady at Seniors Access helped me contact the right people in government to find out what my options were."
SPSASS has created and nurtured mutually beneficial relationships that are critical to the successful delivery of educational workshops and the conference. Some of these are:
Literacy Now

SPCRS
Better at Home
Step up and Ride
City of Dawson Creek
South Peace Retired Teachers
Alzheimer Society
Council of Senior Citizens of B.C.
Dawson Creek Co-op
Dawson Creek Library
Senior Citizens Hall
Northern Health Authority
Dawson Creek Alliance Church
Volunteer With Seniors Access
Seniors' Access provides training and support in dealing with issues relating to seniors.
Seniors' Access Volunteers come from all walks of life, enjoy giving back to their community, and have valuable enthusiasm, skills, and expertise to share.
Contact Seniors' Access for more information on becoming a volunteer.
Donate to Seniors Access
When you donate to Seniors' Access you're supporting ongoing programs and activities such as:
Workshops
Individual support
Resource Centre
Referrals to appropriate agencies
Liaising with partner agencies, enabling SPSASS to provide the best support available for seniors.
Seniors Conference
How To Give:
Please contact the Seniors' Access office for information on making financial or in-kind contributions.
Tax receipts are available upon request.
Future Programs/Goal Setting:
Fundraising to ensure continuity in services
Enlarging of workshops program
Conference
Greater community visibility & identity
Increase our volunteer base
Board Members Elected 2023
Jeannie Lindgren, Cathy McKibben, Terry Dechief, Maxine Erickson, Judy Lazenby, Bill Studley, Linda Studley.